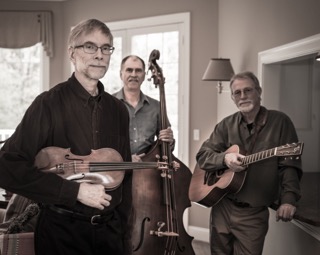 Gordon Swift
has played in fusion, rock, folk, and country bands, and he led an electric quartet playing original work in New York City for several years. He studied South Indian classical violin in India and holds a Ph.D. in ethnomusicology from Wesleyan University. Gordon blends musical influences from around the world into a distinctively American violin/fiddle style.
Paul Howard
is a long-time member of the Americana/string band
Last Fair Deal
, with whom he has recorded four albums. Paul runs Valley Music School in Avon, CT and is a founding faculty member of the National Guitar Workshop with five music instruction books to his credit. He is an eclectic guitarist bringing influences from swing, old-time, bluegrass, and folk/rock music; he's also an accomplished vocalist.
Jon Swift
is a veteran of the New England bluegrass and roots music scene. He was a founding member of the popular bluegrass band
Traver Hollow
, playing bass and singing with the group for 13 years. He has also sung and played bass or acoustic guitar in several other groups, as well as performing solo. Appearing here on upright bass, Jon lays down a solid foundation for the band.
Compositions and recordings © Gordon Swift except as noted.
Photos by Eileen Anderson.